Our User Stories
Today, professionals in property management require a decision-making data analytics tool, which every stakeholder in the building can leverage. Providing better data-driven workflows in a collaborative platform is the right solution forward, with an industry that weighs 32 billion euros per year (for building maintenance and improvement work) and employs over 400,000 multi-technical maintenance contractors in France. SmarterPlan is a Digital Twin operating system supported by workflows designed to address Building Management issues, offering powerful applications hosted within our platform to drive more informed decisions.


Commercialization of real estate assets
Through the immersive 3D visit provided by our solution, owners will showcase their properties on the market for a sale or leasing transaction thanks to a smarter virtual tour, providing HD images and updated floorplans as well as key information on the building condition, for greater transparency to potential buyers before their in-person visit.
The visual integration of technical information in our Digital Twin will reinforce the perception that all stakeholders can finally comprehend the building actual condition, a great criteria to facilitate progress on the deal decision-making.

Building Portfolio Management Solution
SmarterPlan addresses real-life issues with quick returns on investment related to the work of real estate asset management, over the entire life cycle of a building :
√  Accelerate the integration phase before operating and managing any new building property
√  Manage the implementation and updates of a multi-year building maintenance plan
√  Supervise interventions performed on site equipment in real-time
√  Share upcoming transformations and already completed developments of your asset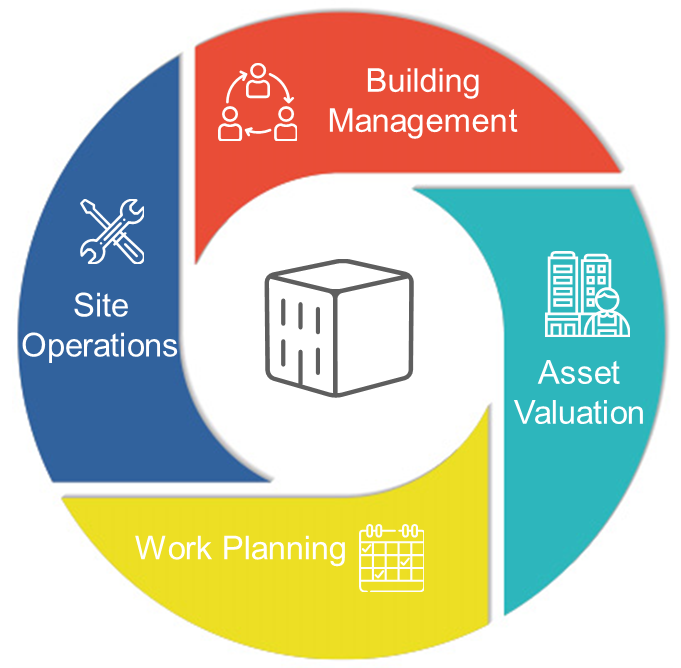 Technical Asset Management
SmarterPlan provides buildings Digital Twins, including key pieces of equipment on site, with a digital cartography of as-built assets allowing a simple, fast and efficient consultation for all operators and stakeholders involved. Our platform allows also for updates of the technical assets available in these properties, guaranteeing an updated inventory for all "smarterized" buildings.

Boost the communication campaign to prepare for a real estate transaction

Facilitate collaborative team work and processes

Master your built assets portfolio performances and key issues

Leverage up-to-date layouts in standard file formats

REAL ESTATE & FACILITY MANAGEMENT DEPARTMENT
Key applications for a Building digital twin
1. Boost field servicing tasks
Our solutions speed up the exchange of information between operators, tenants, and maintenance contractors through our interface, facilitating decision-making on an intervention, while limiting physical contact. Building maintenance is carried out reducing interaction with occupants, and on-site tasks enjoy significant gains in efficiency and time required to completion. Pre and post-intervention inspection can also be performed exclusively on our interface.
2. Better plan for a restructuring of your office premises
SmarterPlan is the genuine interface to explore virtually your workspace, and start planning on how to implement the optimal office configuration in those times of hybrid remote working. Based on updated floorplans, accurate equipment inventory listings and details on their condition, managers can work with a reliable operating budget over the coming years, especially for aging buildings with little historical data.
3. Share key information with your stakeholders
Running a digital twin operating system enables visual information sharing and easier data entering for all building participants. All datapoints are stored and maintained in a centralized Cloud system, like a digital logbook for your built assets.

OPERATORS OF MUSEUMS AND HISTORIC BUILDINGS
SmarterPlan's technology offers much more than a simple "walk" through the museum's corridors, but a true, highly immersive cultural experience with enriched and enhanced content.
Whether you want to reach new, more distant audiences, or encourage your audience to come to the museum to discover your programming, this new mediation format delivered turnkey will meet the needs of innovative practices in the Culture sector, in order to increase the reach and attendance of your cultural space.